It has seemed like an eternity since we last saw Don, Peggy, Joan, Roger and the gang on AMC. This Sunday night is the highly anticipated Mad Men Season 5 premier. So how are you planning to watch? Are you hosting a viewing party? Or are you curling up on your couch with your favorite cocktail?
Not since Sex and the City has a show affected cocktail culture like Mad Men. But, when the SOTC cosmopolitan was first popular in the late 90's, a lot of bartenders, here in New York, didn't know how to make it.  I still remember sidling up to the bar and ordering a cosmo, thinking I was hot stuff. The bartenders would give me a blank look and I'd end up getting a drink that looked (and tasted) more like jet-fuel than the fruity, yummy goodness it was supposed to taste like. But by 2000, there were cosmopolitan happy-hour specials at nearly every bar in Manhattan. Cosmos were EVERYWHERE!
But that was just one drink. On Mad Men, the characters are so liquor-soaked that there are a multitude of cocktails from which to choose.
And even better, they are classic drinks that almost any bartender (and you) can mix. Below are some cocktail ideas inspired by Mad Men characters.
from Drinkmixer.com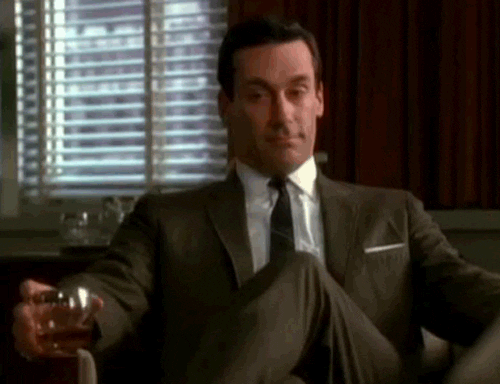 2 oz blended whiskey
1 sugar cube
1 dash bitters
1 slice lemon
1 cherry
1 slice orange
Combine the sugar cube, bitters, and 1 tsp. water in an old-fashioned glass. Muddle well, add blended whiskey, and stir. Add a twist of lemon peel and ice cubes. Add slices of orange and lemon and top with the cherry. Serve with a swizzle stick.
from About.com Cocktails
2 oz rye whiskey
1/2 oz sweet vermouth
2-3 dashes Angostura bitters
Maraschino cherry for garnish
Pour the ingredients into a mixing glass with ice cubes. Stir well. Strain into a chilled cocktail glass. Garnish with the cherry
from DrinkMixer.com

1 1/2 oz gin
3/4 oz vermouth
2 cocktail onions
Stir gin and vermouth over ice cubes in a mixing glass. Strain into a cocktail glass. Add the cocktail onions and serve.
2 or 3 ounces whiskey
2 tablespoons lemon juice
1/2 or 1 teaspoon superfine sugar
3 or 4 ice cubes
1 orange or lemon slice or peel
Maraschino cherry
Combine all ingredients except the fruit slice or peel and cherry in a cocktail shaker and shake vigorously. Strain into a sour or Delmonico glass and garnish with the fruit and cherry.
from Esquire
2 ounces vodka
4 ounces tomato juice
1/2 tablespoon lemon juice
1 splash Worcestershire sauce
3 to 4 dashes Tabasco
1 teaspoon horseradish
Squeeze the liquid out of the horseradish, then shake ingredients well with cracked ice in a chilled cocktail shaker, then strain into a Collins glass with 2 or 3 ice cubes in it; add a pinch of salt and a grind or two of fresh pepper, to taste. Garnish, if necessary, with a stalk of celery.
For more cocktail ideas, go to the AMC website —  there's an area devoted to cocktails seen on the show. There are also some other fun goodies, like Mad Men Yourself.